This thread is for text stories/screenshots of your favourite moments in EVE, whether involving the corp or not (although involving the corp would be more engaging to the audience here =P).
The story/screenshots must come with any required explanations obviously...just post whatcha like!
Mining Op Night (for Rorqual re-gain)
On the night of the 13th march, I took some screenshots of the Op that took place between 19:00 and 22:45 GMT
(in which 8 or 9 miners pulled in over 1 million m3 of ore!!!!)
. Almost all of the shots failed, but I got at least one good one in there. They are below. Hope it brings back good memories of AWESOME mining times
I also posted the fail pictures for a laugh
To Note: Uploading the pics made the res all crappy and the forum shaved off a bit to the right of the shots, so they don't look awesome. You get the idea though =D
The Winning Screenshot
Lots of Drones and Lasers =D
The First Fail
I forgot to at least minimise iTunes and the messenger chat. [facepalm] And yes Bernon, I am watching the Gamekeeper =P Awesome ep.
Note: For some reason the forum shaved off the right hand section of the screenshot...I can see the chat and the whole of the video, I'm not mental =P
The Last Fail
I don't get what happened here - I took this in the exact same circumstance of The Winning Screenshot - with the HUD Onscreen, lasers everywhere and drones everywhere. I paste it and it looks like this. So I tried again. Quite weird...
Hope you like, enjoy the thread =D

jonsha




Posts

: 24


Join date

: 2010-02-06


Age

: 26


Location

: Southampton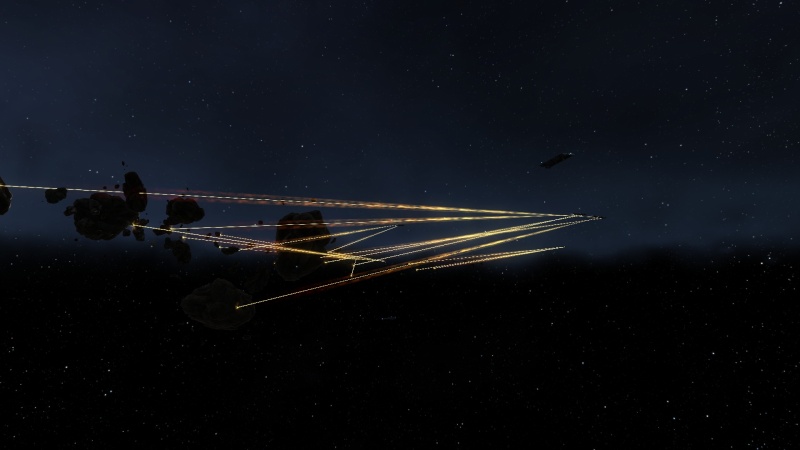 Here's one of the better pics I took last night.

Stark86




Posts

: 3


Join date

: 2010-02-20



More pics of the op on Sunday 14th night (in order of pic being taken through night):
Pure ownage
When I arrived this is what I saw =D
Fan of Fury!
A fan pattern started up later on...quite pretty.
Diamond Mining
A very advanced mining technique that is proven to add 100% style to your mining fleets =P
THREE-DIMENSIONAL DIAMOND MINING!!!!
This technique also makes the mining lasers pull cookies out of the roids. Muuuuch better =P
The end - completely and utterly fucked
These roids were the last. Truly fucked. Time to hold a memorial? Lots of M3 though....always good!

jonsha




Posts

: 24


Join date

: 2010-02-06


Age

: 26


Location

: Southampton



From last nights op. Zoomed out a little too far, but I wanted to get the entire belt.
Here are my Images of last night's op:
Pwnage
Awesome amount of lasers, methinks.
Half Moon
Quite a cool pattern, and lots of lasers too.
Impact
Never realised this looks so nice.

jonsha




Posts

: 24


Join date

: 2010-02-06


Age

: 26


Location

: Southampton



---
Permissions in this forum:
You
cannot
reply to topics in this forum